5 Perfect Unique Dress to Make Your Wedding Shine
In recent years, the wedding industry has seen a delightful shift in the way brides choose their perfect gowns. Gone are the days of cookie-cutter wedding dresses; today, brides are opting for unique and distinctive styles that truly reflect their individuality. We are here to celebrate this exciting trend by bringing you a curated collection of 5 perfect and unique dresses for weddings.
In this blog, we'll explore the world of cute wedding dresses that are far from ordinary. Whether you're a bride-to-be seeking unconventional wedding dress inspiration or simply looking for something different, you've come to the right place. We understand that every bride deserves to feel like a one-of-a-kind princess on her wedding day, and that's exactly what we aim to provide.
So, if you're ready to break away from tradition and make your wedding day shine with your unique style, join us on this journey as we unveil some of the most stunning and different wedding dresses you've ever seen.
List of The Unique Dresses for Wedding
A unique wedding dress that perfectly encapsulates your style can be an exhilarating journey. To assist you in your quest for the most unique wedding dresses, we've compiled a list of five stunning options that are sure to inspire and amaze you. Moreover, we'll offer guidance on how to ensure your chosen dress harmonizes with your wedding theme and venue.
Classic A-Line Strapless Bridal Gown With Detachable Bishop Sleeves
This dress seamlessly blends timeless elegance with contemporary flair. To enhance its uniqueness, consider accessorizing with a statement belt or a colorful sash that matches your wedding color scheme.

Slim and Sexy Wedding Gown With Illusion Back
For a cute wedding dress that exudes allure, this slim and sexy gown is a top choice. It pairs well with a beach or garden wedding, accentuating your figure while ensuring comfort in outdoor settings.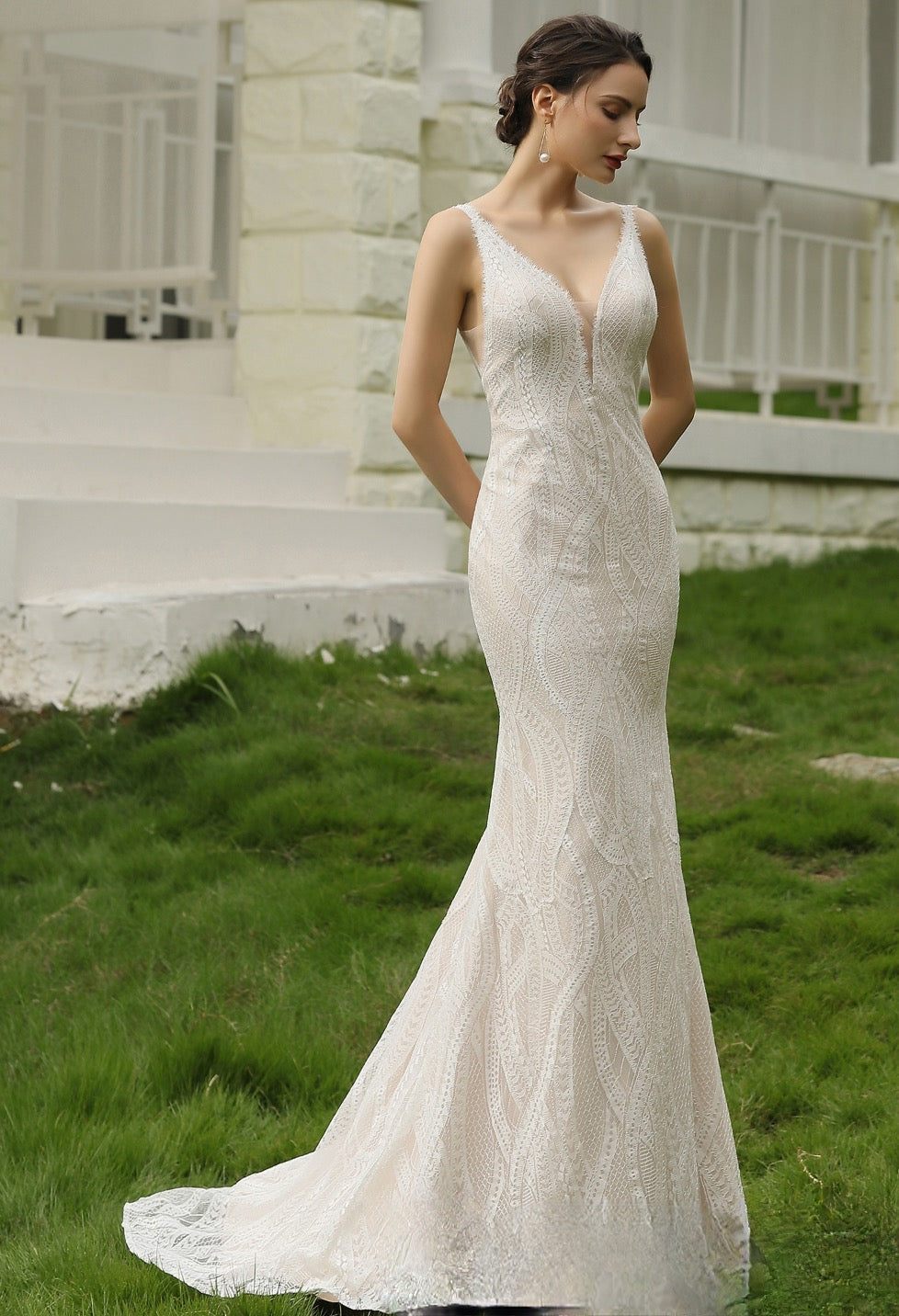 Illusion Lace Ball Gown Sleeveless Bodice V-Neck Neckline
The illusion lace details on this ball gown make it a unique masterpiece. To tie it into your wedding theme, choose lace accents for your decor or bridesmaids' dresses.

Curve-Hugging Beaded Lace Mermaid Wedding Gown With Breathtaking Illusion Back

This dress is ideal for brides who desire a crazy wedding dress with a dash of sophistication. Opt for a venue with grandeur, like a historic mansion or a luxurious ballroom, to complement its dramatic style.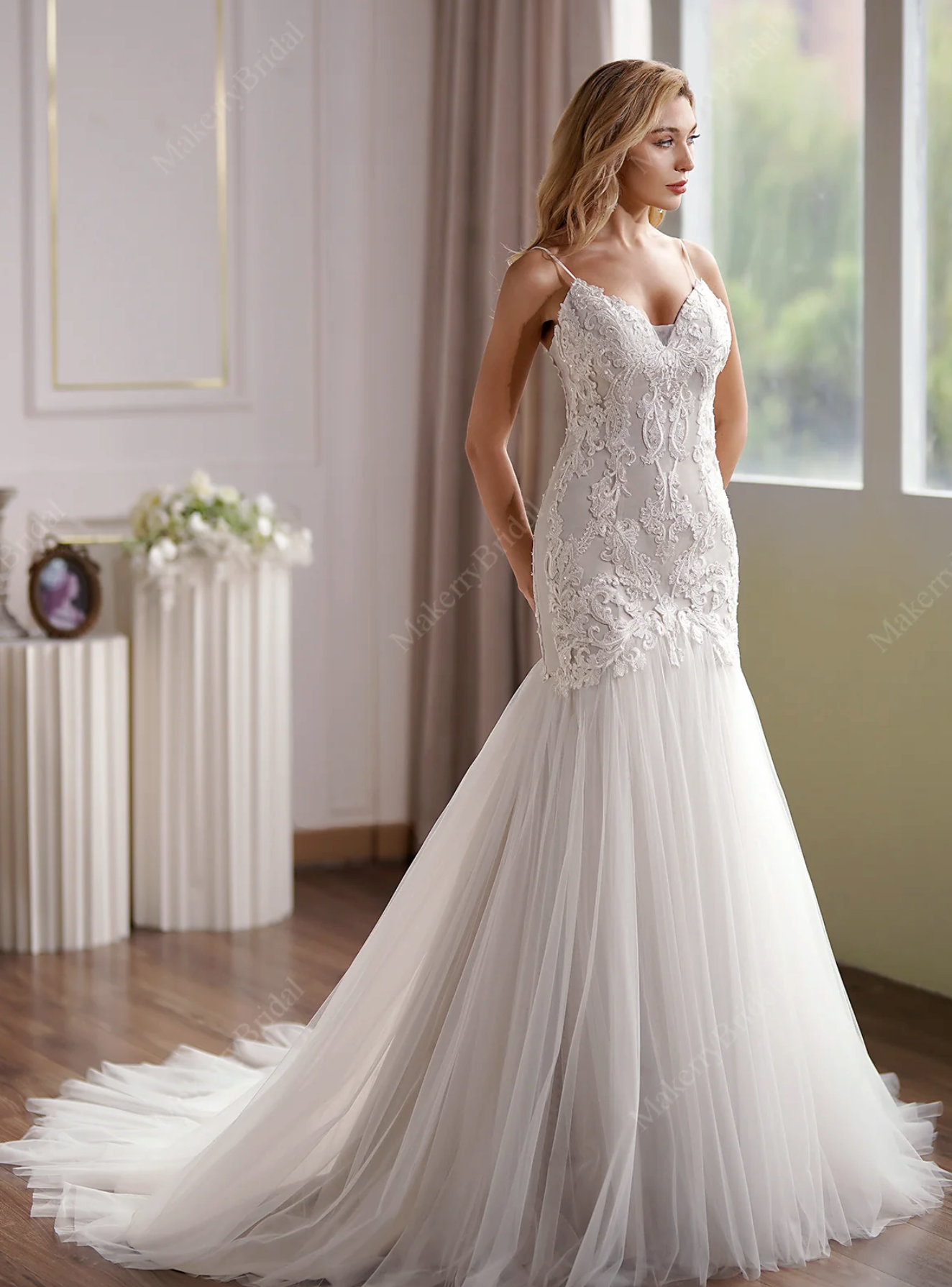 Glamorous Lace Fit-and-Flare Wedding Gown With Plunging Neckline
To complete the list of pretty wedding dresses, this fit-and-flare gown offers a glamorous look. Consider matching it with statement jewelry that reflects your personality.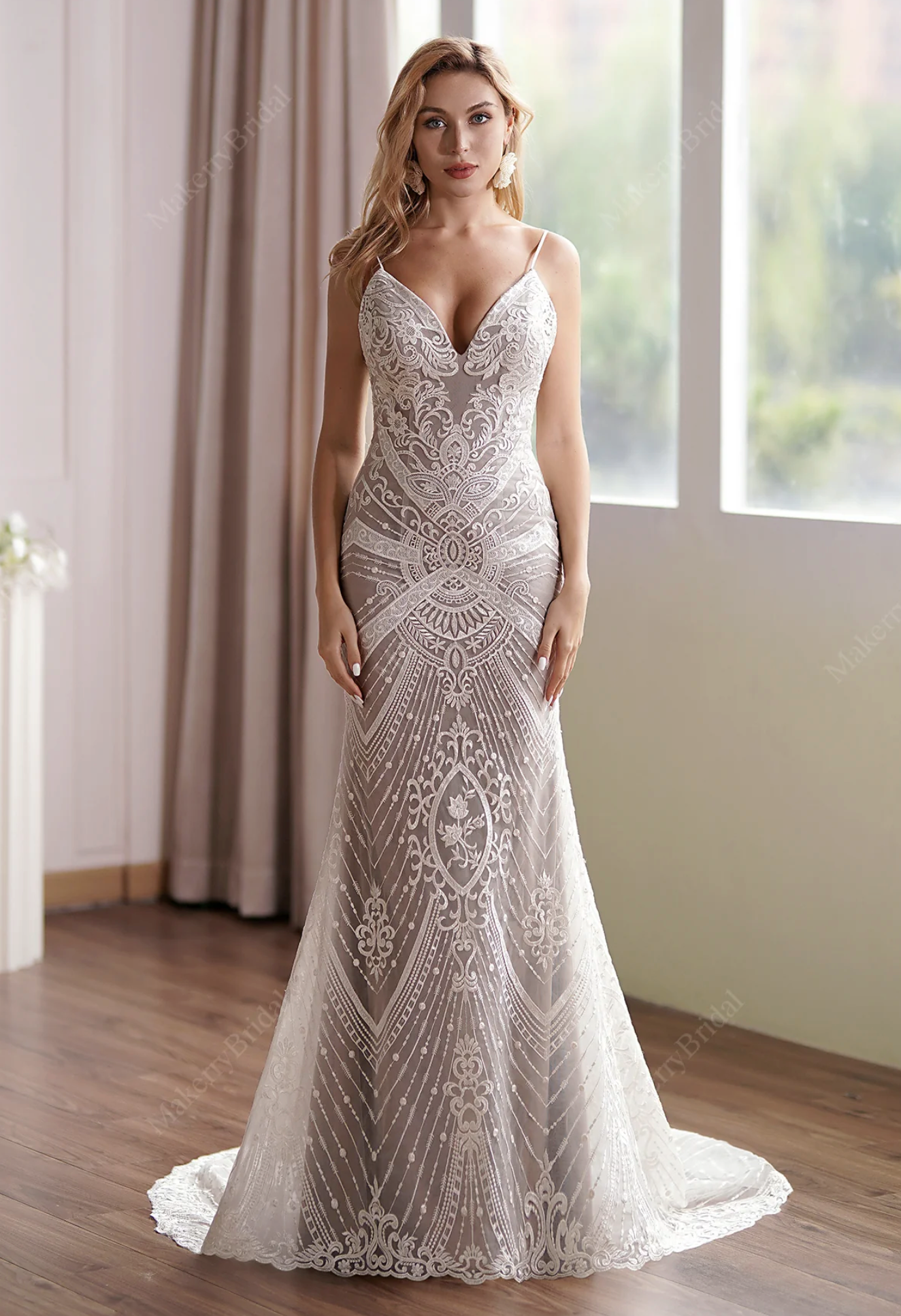 When hunting for unique wedding gowns, remember to consider your venue and wedding theme. Explore various styles, fabrics, and embellishments to find the dress that aligns with your vision. Your wedding dress should not only be a reflection of your unique personality but also harmonize with the overall ambiance of your special day.
The Advantages and Considerations of Buying Unique Wedding Dresses
Having a unique wedding gown can be an exciting and empowering choice for brides seeking a one-of-a-kind look on their special day. However, like any wedding dress shopping experience, it comes with its own set of advantages and considerations that brides should keep in mind.

Advantages of Buying Unique Wedding Dresses
Wider Choices
When you opt for a unique wedding gown, you open the door to a vast array of styles, fabrics, and designs that may not be available with traditional bridal attire. This wide range of choices allows you to truly express your individuality and find a dress that resonates with your personality.

Wedding Dress Inspiration
Unique dresses for weddings often serve as a source of inspiration for brides who want to break away from convention. These gowns can inspire creativity in other aspects of wedding planning, such as decor and color schemes.
Tulle Lux's Unique Wedding Collection
When considering potential concerns like sizing, fabric quality, and alterations, Tulle Lux Bridal Crowns and Accessories' unique wedding collection can provide peace of mind. Their attention to detail and commitment to quality ensures that brides receive dresses that not only fit perfectly but also feature top-notch fabric and craftsmanship.
Considerations When Buying Unique Wedding Dresses
Sizing
Be prepared for potential sizing variations, as unique wedding gowns may not adhere to standard sizing charts. It's crucial to provide accurate measurements to the designer or boutique to ensure a perfect fit.
Fabric Quality
While unique wedding dresses offer diverse fabric choices, it's essential to assess the quality of the material to ensure comfort throughout your wedding day.
Alterations
Factor in the time and cost of alterations, as unique dresses may require more adjustments to achieve the desired fit and style.
For brides considering unique wedding dresses, our tip is to start early, research designers or boutiques that are known for their craftsmanship, and communicate your vision. With careful planning and the help of Tulle Lux's unique wedding collection, you can confidently choose a dress that truly reflects your style, making you feel like the most beautiful bride on your big day.
Conclusion
In conclusion, our exploration of unique wedding dresses has highlighted the importance of embracing individuality and personal style when selecting the perfect gown for your big day. We've delved into the advantages and considerations of choosing distinctive bridal attire, emphasizing the wide array of choices available and the need for careful planning, especially regarding sizing and alterations.
The featured collection from Tulle Lux Bridal Crowns and Accessories, with its exquisite designs and attention to detail, offers brides a source of confidence in addressing concerns about fabric quality and fit.

Also Read: How to Choose The Right Wedding Dress