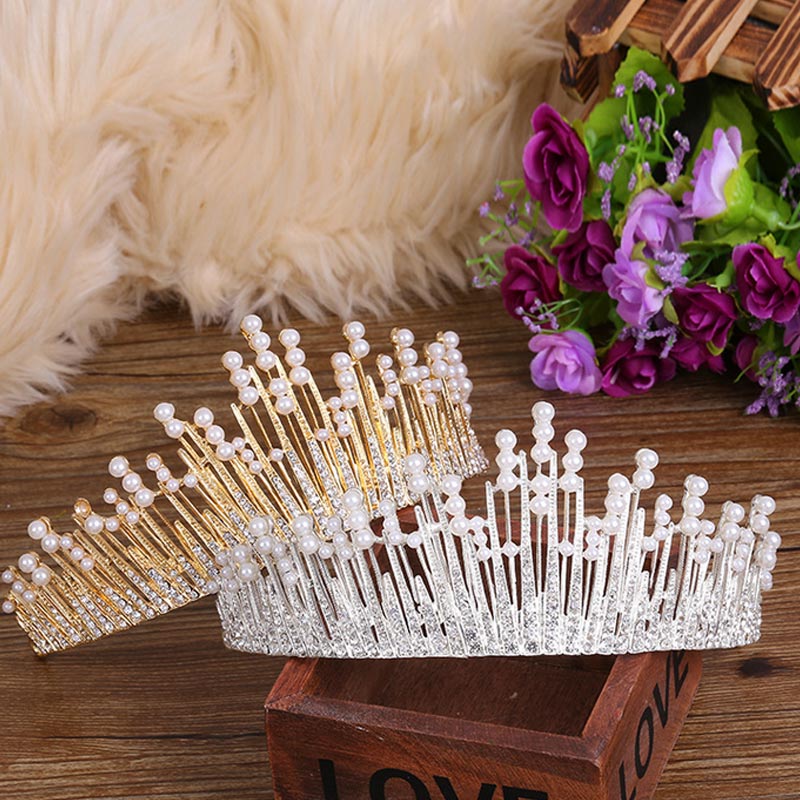 How To Choose Crowns And Tiaras: Types Of Crown And Tiara?
Tiaras and crowns are particularly important bridal accessories since they help to complete the ideal bridal look. These regal ornaments, which stand for elegance, beauty, and monarchy, have been prized for generations.
Choosing the ideal crown or tiara is crucial since it improves the bride's overall appearance and makes her feel like a true queen on her special day. With so many options accessible, it is crucial to make a well-informed choice.
In this blog, we will explore the types of crowns and tiaras, shedding light on how to choose the perfect one that complements the bride's style and personality.
Below, we have listed several important factors that will assist you to choose the right types of crowns and tiaras and make your most important day even more wonderful.
Tips for choosing the right types of crowns and tiaras
1. Understand Your Bridal Style
Every bride is unique, and her bridal style should reflect her personality and the theme of her wedding. When choosing a tiara or crown, it is essential to consider these elements. Classic brides prefer a timeless and sophisticated look, while bohemian brides seek something more natural and ethereal. Modern brides embrace sleek and minimalist designs, whereas vintage brides opt for nostalgic and intricate styles. Romantic brides lean towards soft and dreamy aesthetics.
Examples of wedding tiara crown styles that align with each bridal style:
Classic: A delicate and elegant Swarovski crystal tiara.
Bohemian: A floral crown adorned with earthy elements like leaves and wildflowers.
Modern: A sleek and minimalistic metal crown with geometric accents.
Vintage: An intricately designed tiara with vintage-inspired motifs.
Romantic: A pearl-embellished crown with a soft and romantic feel.
2. Exploring Different Types of Crowns and Tiaras
The Tullelux Bridal Crowns collection offers a diverse range of stunning tiaras and crowns that cater to various tastes and preferences. Let's delve into some popular designs:
Swarovski Crystal Tiaras: 
These dazzling tiaras are adorned with shimmering Swarovski crystals, adding a touch of opulence and sparkle to the bridal ensemble.
Floral Crowns: 
Perfect for bohemian brides, these crowns feature an array of fresh or artificial flowers, bringing a natural and whimsical vibe to the overall look.
Pearl-Embellished Crowns: 
Exuding elegance and sophistication, pearl-embellished crowns are ideal for brides with a classic or vintage style.
Highlight the unique features of each design and their potential to elevate the bride's appearance.
3. Choosing the Right Material and Quality
Type of Tiaras and crowns' appearance and toughness are significantly influenced by the material used in their construction. Metal, rhinestones, crystals, and pearls are common materials. 
To ensure that the wedding crown's accessory lasts a lifetime, choose high-quality materials while making your decision. You can rely on Tullelux Bridal Crowns to use high-quality materials and skilled craftsmanship in the creation of each design, resulting in an opulent and long-lasting accessory.
4. Considering Hairstyle and Hair Type
The bride's chosen hairstyle and hair type can significantly impact the suitability of specific tiaras and crowns, as they play a pivotal role in determining how well the accessory complements her overall look. It is essential to consider the length, texture, and style of the hair to find the perfect tiara or crown that enhances the bride's beauty and harmonizes with her hairstyle. Here are some recommendations for different hair types and hairstyle-crown pairings to inspire brides:
Short Hair:
Brides with short hair can still adorn themselves with beautiful tiaras and crowns that perfectly complement their chic and elegant style. Petite tiaras or delicate headbands work exceptionally well with short hair, adding a touch of sophistication without overwhelming the overall look. Consider a dainty floral crown for a bohemian-inspired wedding or a subtle crystal headband for a classic and refined appearance.
Long Hair:
Long hair offers versatility, providing brides with various options to choose from. For a statement-making look, opt for a bold and voluminous wedding crown that beautifully accentuates long flowing locks. A tiara with intricate crystal or pearl detailing can be a stunning choice for a traditional bride. Alternatively, a delicate and ethereal floral crown can add a whimsical touch to a romantic bridal ensemble.
Curly Hair:
Brides with curly hair should embrace the natural texture of their locks when choosing their tiara or crown. Consider bohemian-inspired crowns with floral elements, as they beautifully complement the curls, creating a dreamy and enchanting look. A tiara with a mix of Swarovski crystals and pearls can add an elegant touch, enhancing the bride's captivating appearance.
Updos:
Updos provide the perfect canvas for elaborate and statement-making tiaras and crowns. Brides can opt for a crown that becomes the focal point of their bridal look, drawing attention to their beautifully styled hair. A regal and opulent tiara with intricate crystal work can add a touch of grandeur, while a more delicate and ethereal design can exude romance and grace.
5. Comfort and Fit

Comfort is of utmost importance on the wedding day, and the chosen tiara or crown should not cause any discomfort or distraction during the celebration. Here are some tips to ensure a comfortable fit for the bridal accessory:
Proper Sizing:
Choosing the right size for the tiara or crown is crucial. Brides should measure their head circumference carefully or consult with a professional to ensure a perfect fit. Tullelux Bridal Crowns offers a range of sizes, ensuring that every bride finds an accessory that fits comfortably.
Weight:
Consider the weight of the tiara or crown, especially for those with sensitive scalps. Lighter options are often more comfortable for extended wear, allowing brides to enjoy their special day without any discomfort.
Secure Fastening:
Ensure that the tiara or crown has a secure fastening mechanism to keep it in place throughout the wedding ceremony and reception. Adjustable bands, combs, or pins can help secure the accessory firmly in the hair.
Adjustable and Customizable Options:
Tullelux Bridal Crowns collection offers adjustable and customizable options for certain designs, allowing brides to tailor the fit to their liking. Customization ensures a comfortable and secure fit that complements the bride's hairstyle and head shape.
Conclusion:
A fun and crucial step in crafting the bride's ideal bridal look is selecting the ideal tiara or crown. Brides can confidently choose the best accessory to accentuate their overall appearance by being aware of their bridal style, looking at various designs, taking into account the material and quality, accounting for hairstyle and comfort, and exploring various styles.
Brides are advised to take their time, make informed judgments, and give top priority to picking an accessory that embodies their distinct sense of style and individuality given the large range of possibilities available. Every bride will be able to select the crowning piece that best accentuates her beauty and completes her magical wedding ensemble at Tullelux Bridal Crowns thanks to the collection of stunning styles.
Read More:
Everything You Need To Know About Wedding Crowns and Tiaras